Ibom Air Fare Classes Explained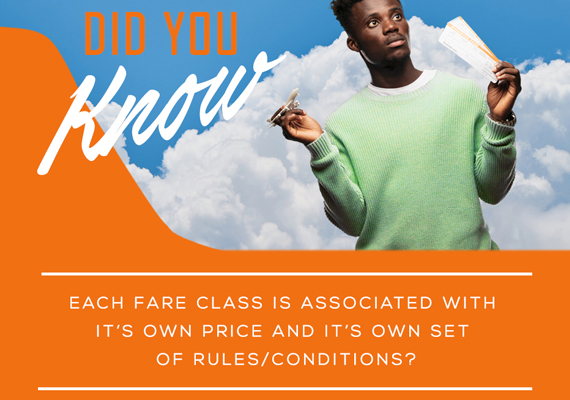 All airline tickets offered on each flight are divided into different fare classes which are basically different ticket categories. Each fare class is associated with it's own price and it's own set of rules/conditions. Even within traditional service classes (economy, premium economy, business, etc.), there are different fare classes offered. In most cases, the lower the ticket price, the more restrictions are associated with the fare.
When booking your ticket, it's important to take note of the rules and conditions associated with the type of ticket you are purchasing. Different ticket fare classes have different conditions attached which typically determine the amount of flexibility you have to change your reservation. For example, the ticket fare class will determine whether or not you are able to make changes to your booking (with or without a fee), whether you can get a refund if you need to cancel your booking, etc.
At Ibom Air, we currently offer the following ticket fare classes:
Premium Economy Full
Premium Economy Discount
Economy Full
Economy Discount
Economy Discount +
Economy Discount ++
Economy Saver
Special Promo
Please be sure to read the ticket rules and conditions prior to purchasing your ticket.
NOTE: Our special promo tickets are the most restrictive. They are non-transferable, non-endorsable, non-reroutable & non-refundable; therefore you are not able to make any changes to your booking after your ticket has been purchased.
| Features | Premium Economy Full | Premium Economy Discount | Economy Discount + | Economy Discount ++ | Economy Saver |
| --- | --- | --- | --- | --- | --- |
| One free Change | ✔ | ✔ | | | |
| Refundable but Non-Transferrable & Non-Endorsable | ✔ | ✔ | ✔ | ✔ | |
| Non-Refundable, Non-Transferrable & Non-Endorsable | | | | | ✔ |
| 30kg Checked-in Baggage allowance, not more than One (1) Bag | ✔ | ✔ | | | |
| 20kg Checked-in Baggage allowance, not more than One (1) Bag | | | ✔ | ✔ | ✔ |
| Reroutable Subject to our conditions of change | ✔ | ✔ | ✔ | ✔ | ✔ |
| In-flight Refreshments | ✔ | ✔ | ✔ | ✔ | ✔ |