Ibom Air's Fleet Expands With The Delivery Of 4th CRJ 900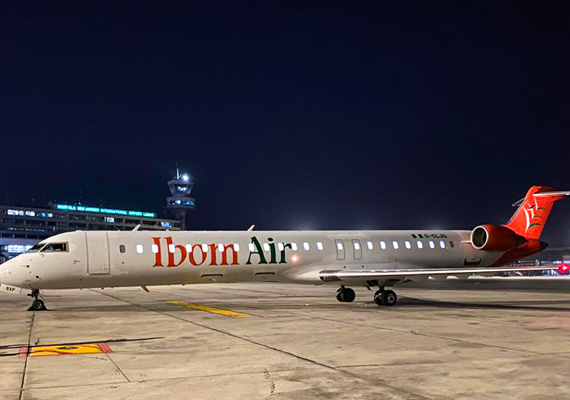 Ibom Air has taken delivery of the airline's fourth Bombardier CRJ 900 aircraft in Lagos. The aircraft arrived Lagos from Calgary, Canada at 10:48 pm local time, Tuesday evening (05 May, 2020).
We are very pleased to receive the first of our two recently purchased Bombardier CRJ 900 aircraft, in line with our fleet expansion strategy. With this addition, our fleet grows to four aircraft. This particular aircraft, with registration number 5N-BXP, made its maiden commercial flight in May 2014 (just 6 years ago). Thus, Ibom Air continues to operate the lowest average fleet age amongst Nigeria's airlines. This fleet strategy is in line with our vision to be a world-class African regional airline.
A key benefit of Ibom Air's very modern fleet of Bombardier CRJ 900 aircraft is that they all come fitted with High Efficiency Particulate Air (HEPA) filters. HEPA filters are high-intensity filters that do not just filter dust, but effectively capture greater than 99% of the airborne microbes in the filtered air, including microscopic particles such as bacteria and viruses. Cabin air in HEPA equipped aircraft generally pass through the filters 20-30 times per hour, removing contaminants and greatly enhancing the quality of air in the cabin.
We thank the Hon. Minister of Aviation, the Federal Ministry of Aviation, the NCAA, NAMA, FAAN and the Akwa Ibom State Government, for making it possible for us to ferry in this aircraft during this period. Keeping it in Canada waiting for the Covid-19 pandemic to pass, would incur huge and unnecessary hard currency costs for us.
We also thank our numerous customers for their continued loyalty and assure them that Ibom Air is eagerly preparing to resume our superior services to them, once conditions allow for operations again.
Please continue to stay safe.
Signed,
Ibom Air Management